This past Christmas, I decided to make an armadillo pillow for my sister-in-law. She collects armadillos. I started by checking out Wikipedia.com for a photo of the critter and found this: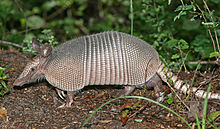 Not so cute. Oops. I didn't say that. Don't tell my SIL, she may get offended.
I like cute critters. One of my goals when designing is to make my designs look like the real animal, but not so real that it would scare a baby. Maybe it's because I get nightmares easily, I don't know.
So, this armadillo guy was a challenge.
When I design a new applique, I always start with pencil and paper. And I sketch. Sometimes it takes a few minutes. Ok, honestly, it RARELY takes a few minutes. It normally takes many tries. More often, days.  I wish I was one of those people who could draw quickly and proportionately. I'm not. I usually sketch and put the design away for a while, and come back to it later to rework it again. I've been working on some designs for years. Hamster. I've been working on her for 3 years and still can't capture the look I want. Sorry, I digress.
So, here's my final sketch: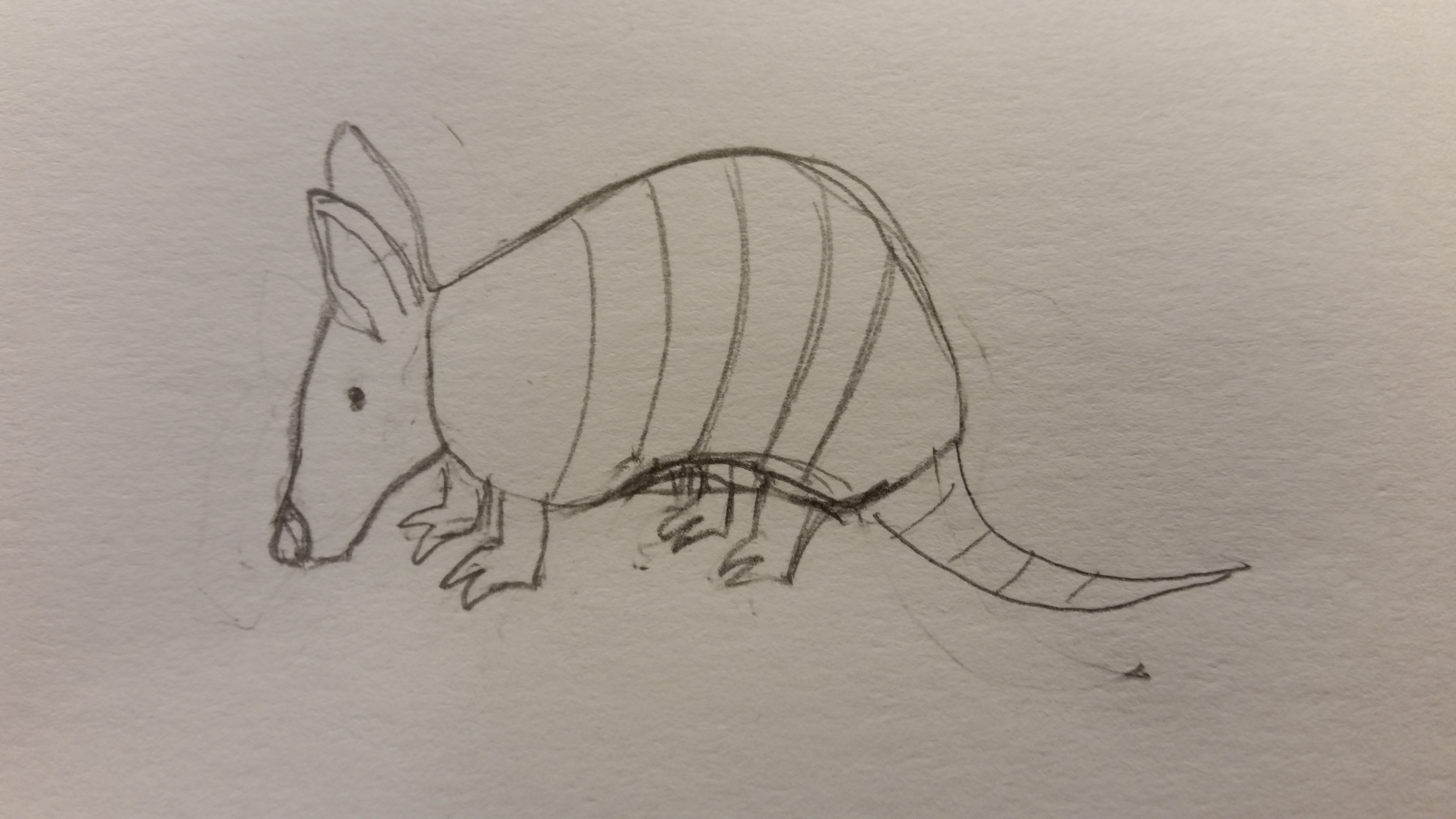 From here, I program the design into my embroidery software. I'll cover that in more detail another day. And then I sew out the design. I repeat these last two steps over and over until the design "works." Lots of variables to adjust, like angles and size of stitches, thread colors, fabric colors… Getting everything to work well together takes a lot of test runs. I have a bag full of half-creatures sewn onto squares of fabric. It looks like a monster party – lopsided heads, spiky toes, misshapen eyes… Maybe I'll make a scary quilt with them someday. I digress again, sorry.
So, here's the final pillow: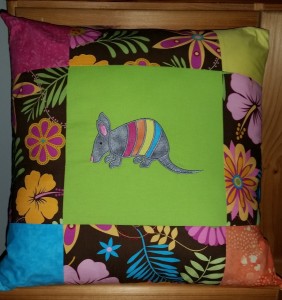 Did I say, my sister-in-law loves neon colors? She LOVES neon colors. Which worked out well, because the first run of this little guy was pretty boring — all grey was not so cute. Kind of like a rock with appendages!
Oh, and she loved the pillow. 🙂