About me
A self-proclaimed sewing geek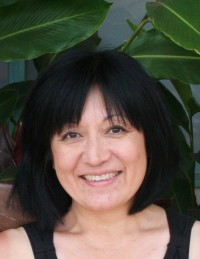 Welcome to my website, and thanks for stopping by! My name is Cheryl Edmonson and I'm the "face" behind Patchberries. Yep, that's me.
My family consists of 1 awesome husband who writes books (ceedmonson.com) and two incredible daughters who are both in college. They are my biggest encouragers. (You can say, "Aaaawh" here.)
I've been sewing since I was 11 years old. I kid people that I've sewn everything, including the tip of my finger (in my very first sewing class). If you were in my class, I'm so sorry if I caused you any childhood emotional scars! I have a B.S. in Fashion Design from the University of Hawaii. In my younger days, I was a sewing instructor for Bernina in Hawaii. I call myself a sewing geek because I can spend hours in a fabric store, or online watching sewing tutorials, or reading any sewing how-to book. Anybody relating here?
Patchberries was born years ago when I discovered I could turn my sketches into appliqued designs. Back then, I did everything manually, there were no embroidery machines. In 2012, my husband bought me a Bernina 830 embroidery machine that hooks up to my computer. (I told you he was awesome!)
So, now I'm a sewing geek AND a computer nerd! Lovin' it and can't wait to start releasing my new, upgraded designs. Thanks, everyone who has hung in there with me while I've gone back to learning mode to overhaul Patchberries. I hope you'll join my Patchberries family to get updates on this fun journey! I'm combining my passion for sewing with my other passion  for making this world a kinder place for children. Stay tuned!
Love,
Cheryl